The historic climate charts below show the averages of thirty years of climate data from the eastern Italian Riviera, and should be used as general guidelines for your Cinque Terre travel planning.
As you can see by the climate charts, temperatures soar in the Cinque Terre in July and August. Things cool off a bit in September and October, but the average rainfall peaks in October, so there's a trade-off. At grape harvest, the trails can get crowded at times.
April and May in the Cinque Terre can be quite nice, and maybe May, along with September, would be the ideal time to plan a vacation on the Italian Riviera.
Current Weather and Forecast for the Cinque Terre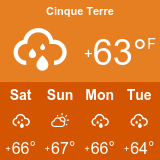 Visitor Information for the Cinque Terre
Hiking the Cinque Terre trails (when they're open) is a major part of the tourist experience. See a hiking trails map.
Also see: Cinque Terre: Getting there, Staying, Getting Information